If you are feeling depressed when you work, then you are not alone. Anxiety, sadness, loss of motivation, difficulty concentrating, unexplained bouts of crying, and boredom are just some of the feelings you may be having if you are experiencing depressive symptoms at work.
Work depression impacts over 20 million adults each year worldwide, and there has been an increase in the number of people each year, with a rise of 70% since last year.
Full-time employees spend an average of 9 hours per day working on the weekdays and 6 hours working on the weekends and holidays.
According to recent studies, experts claim that it should come as no surprise that many of them will experience signs of depression while they are at their work.
Let's see why work might be triggering depressive symptoms, how to fight depression at work, and what you can do to feel better.
WHAT DOES WORK DEPRESSION MEAN?
Work may not be the leading cause of depression. The surrounding environment may worsen symptoms for people who already live with depression.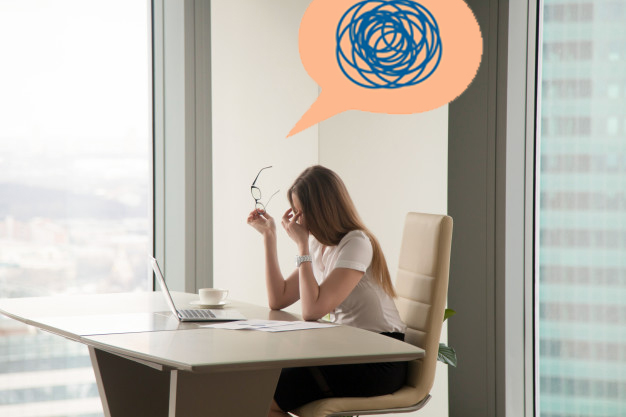 According to World Health Organization (WHO), a negative working environment can lead to:
Lost productivity
Absenteeism
Mental and physical health concerns
Increased substance abuse
Studies from across the world show that depression ranks among the top three problems in the workplace for employees.
HOW CAN YOU IDENTIFY THE SIGNS OF WORK DEPRESSION?
The signs of depression at work are like general depressive symptoms. This work depression will affect your level of functioning in your job as well as at home. Some common signs of work depression are as follows:
A feeling of boredom about your job
Lack of motivation on do things
Increased anxiety levels, especially when managing stressful situations
Feelings of hopelessness, worthlessness, or overwhelming guilt
Inability to concentrate or pay attention to tasks
Making too many errors in daily tasks
An increase or decrease in weight
Physical discomforts like fatigue and upset stomach
Increased absences or coming in late
Lack of decision-making capacity
Irritability and low frustration tolerance
If you are good at hiding them, these signs of work depression might not be visible to your co-workers. But there are some symptoms that they can notice.
WHY CAN YOU BE DEPRESSED AT WORK?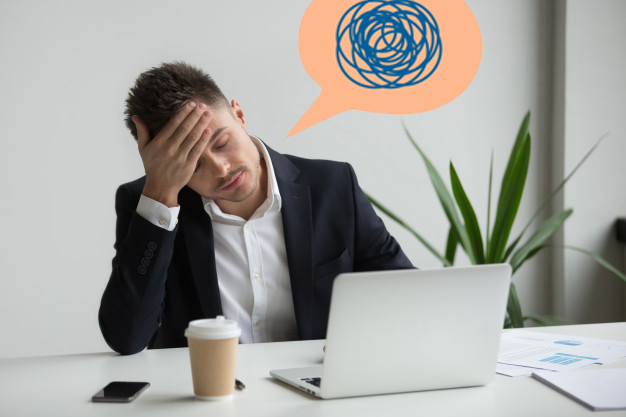 There can be plenty of reasons as to why you might be dealing with an increase in depressive symptoms at work. Some common themes emerge when pinpointing the causes of signs of depression at work. Here are some situations that contribute to work depression:
Working in an environment that is unhealthy for the mind
Being overworked/underpaid
Harassment or discrimination in the workplace
Working irregular hours
Lacking balance between your work-life and home-life
Working in an environment that does not match your values
A feeling of having no control over issues related to work
Always having a feeling that your job is in jeopardy
WHAT CAN YOU DO WHEN YOU FEEL DEPRESSED WHILE WORKING?
No matter where you work, managing work depression symptoms can be challenging as well. The good news is that you can do things to make yourself feel better when you feel depressed. They are as follows:
Go for a walk during a break. Exercise works wonders for mental health.
Practice mindfulness meditation for a few minutes everyday.
Practice deep breathing exercises
Say no to one small thing. This might allow you to experience less stress.
When you get some free time, try to watch a funny video.
Go outside during your lunch break.
SOME COMMON RISK FACTORS FOR DEPRESSION AT WORK
Here are some common risk factors for depression at work and those are:
Workplace politics
Workplace gossip
Workplace bullying
High job demands
Low decision latitude
Limited social support in the workplace
Also, excessive long shifts of 10 to 12 hours or maybe more than that or shifts during odd hours are some significant risk factors that can disrupt your sleeping patterns and routines. A poor job can also lead to emotional and physical distress, leading to burnout and a poor emphasis on work-life balance.
HOW CAN DEPRESSION RELATED TO WORK BE TREATED?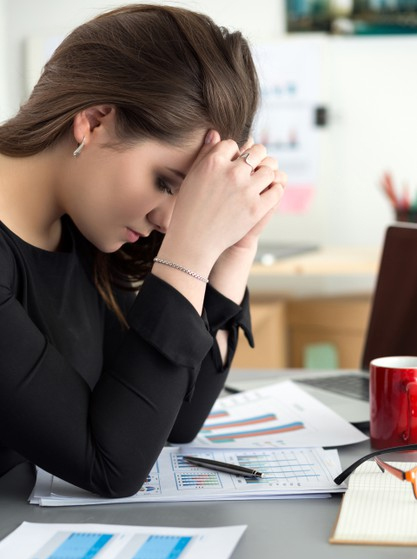 If you notice a connection between depressive symptoms and your workplace, then immediately seek help. Make sure to talk with your supervisor or boss as it is the first good step. Sometimes a change is needed in an assignment or location within an office or organization. This can help reduce the symptoms.
A combination of psychotherapy, medication, and lifestyle interventions is often recommended for treating depression. You can even ask the H.R. department if your company has an assistance program for employees. An employee assistance program is a program that offers mental health-related services for personal and work issues.
A study in 2015 found out that universally delivered workplace mental health interventions and, more specifically, cognitive-behavioral health-based programs can reduce the level of depression symptoms among workers.
Keeping that in mind, managers, supervisors, and employees can also be trained to initiate conversations with those in need of help and support them in their search for timely care.
IN CONCLUSION
When you experience symptoms of depression at work, it can feel overwhelming. Signals like anxiety, crying, and lack of interest should be the first signs that should prompt you towards getting help.
If you are concerned about work depression, you must reach out to find a counsellor through an employee assistance program.
You can seek treatment from a therapist or psychologist as well. Also, make sure to make an appointment with a doctor or mental health professional.